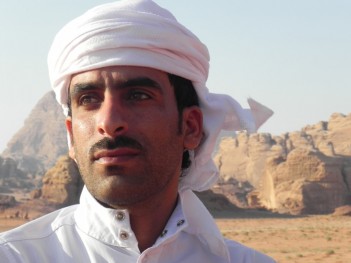 My name is Aeith Mohammed and the desert of Wadi Rum is my home. I was born and grew up in the desert and I have lived here with my family for as long as I can remember. I'm the eldest brother of many siblings. As a child I learned to find my way in the desert – now I know every rock and mountain, each sandy plain and dune and of course, I'm very familiar with the stars of our galaxy.

I have extensive experience as a desert guide and I love my job. I know where to view the most beautiful and impressive places of Wadi Rum and all of its secrets. Many members of my family will also share their knowledge and skills with you that they have mastered after living in the desert for many years.
Each member of my team is a local Bedouin, meaning that your experience with us will be authentic. While in Wadi Rum you will be able to learn about all aspects of our culture - customs, food, history, and more. We offer a variety of ways to explore the desert - by jeep or on the back of a camel, or we can guide you to the best spots to hike or scramble. The clear night skies offer incredible views of the stars if you wish to camp out in a tent or in a cave. We are a flexible company so do not hesitate to contact us with any special requests that you may have. We look forward to hearing from you soon!