If you want to truly immerse yourself into the traditional Bedouin lifestlye, then choosing one of our camel tours is the right choice for you. For millenia, crossing the desert on camelback was the best way to travel long distances. Today, you can explore Wadi Rum on the back of a camel with an experienced guide, and feel like you've been thrown back in time.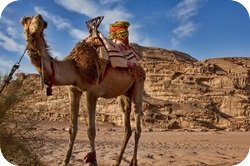 Our one day camel tour starts in the morning and stops at many of the main sites in Wadi Rum. You will depart from the Wadi Rum Village on camelback led by your Bedouin guide on his own camel. You will stop in a pleasant, shady location for a traditional lunch, followed by more sight seeing. After the tour, you can spend the night in our fixed camp or camp outside with a fantastic view of the starry night sky. Click here for details.
This tour is a combination of two of our most popular activities. On the first day, you will tour Wadi Rum by jeep, stopping at all of our desert's famous landmarks. After a day exploring the desert, you will stay the night in our fixed camp or camp out beneath the starry night sky. In the evening, you will enjoy a traditional Bedouin meal and some music performed using a local instrument. The following morning, you will travel back to the village on camelback, a journey you will not soon forget. Click here for details.
If you do not have enough time to spend the night in Wadi Rum, one of the best ways to experience our desert is with one of our camel day trips. For millenia, travelling by camel was the best way for Bedouins to travel long distances across the desert. These days we are ready to guide you to a variety of sites in a time period that suits your schedule. Click here for details.
Do you have something else in mind? We are more than happy to accomodate any ideas or requests that you may have. Do not hesitate to contact us, we would love to hear from you.