One of the best ways to explore Wadi Rum is in the back of a jeep. Exploring the desert in a jeep allows you to visit all of the must-see sights of Wadi Rum in one day. We currently offer three different overnight tours that will allow you to experience all that our desert has to offer. Don't have enough time to spend the night? Not a problem, we also offer a variety of day tours to various parts of the desert.
1 Day - Jeep & Overnight
Our one day jeep tour starts in the morning and hits all of the main sites of the Wadi Rum desert. As the day winds down, you can sit and watch the sunset before settling in for an evening of Bedouin food, and hospitality. You will stay at our fixed camp or camp out, bivouac style, under the endless stars in the desert sky. Click here for details.
2 Days - Jeep & Scrambling
Our two day jeep and scrambling tour allows you visit all of Wadi Rum's important sites on day one, and climb to the Burdah Bridge rock arch on day two. You can spend the evening in between getting familiar with the Bedouin culture as you enjoy traditional food. Sleeping under the clear desert skies is an experience you will not soon forget. Click here for details.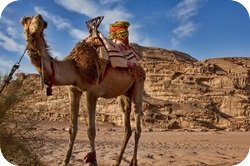 2 Days - Jeep & Camels
Our two day jeep and camels tours begins by touring all of Wadi Rum's must-see sites in the back of a jeep. After a day of sight seeing, you can enjoy the full Bedouin culture experience with an evening full of traditional food. Camping out under the starry night sky provides fantastic view's of our galaxy's many constellations. The next morning, you will journey back on the village on camelback with Wadi Rum's towering cliffs by your sides. Click here for details.
Do you have something else in mind? We are more than happy to accomodate any ideas or requests that you may have. Do not hesitate to contact us, we would love to hear from you.