Tour Overview
This tour is for active travellers who have a bit of time to spend in our beautiful desert. Over five days and four nights we will hike and scramble to many of the best views that Wadi Rum has to offer. During the evenings we will set up camp and enjoy evenings filled with Bedouin traditional dishes. If you want to get in touch with nature and aren't afraid of a bit of physical exertion, this is the tour for you.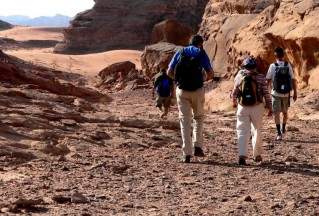 Sites Included:
Makharas Canyon
Um Ishrin
Burdah Bridge
Um Mugur
Jebel Khasch
Jebel Um Adaami
Tour Programme
Day 1: When you reach Wadi Rum you will arrive at the Wadi Rum Visitor Centre, the gateway to the Wadi Rum Protected Area. Here is where you will pay the entrance fees or enter with the Jordan Pass. After the Visitor Centre, you will continue onward for about 6km to the Wadi Rum Village until you reach the Wadi Rum Rest House. Here I will greet you and lead you inside for a short rest and a cup of delicious Bedouin tea. With a map, I will chat with you about the day's plans. Once the tea is finished, we will set off into the desert.
We start the hike from the Wadi Rum Village, hiking up through Makharas Canyon to the valley of Um Ishrin. This trail takes about 3 hours and we will stop to have lunch on the way. In the afternoon, we continue to the sand dune area. Once there, we will have supper and stay there to sleep under the stars.
Day 2: After breakfast, we walk up to Burdah, which should take about 3.5 hours. After lunch, we will take an easy scramble up to the Bridge on Jebel Burdah where there are some magnificent views. Going up and down again will take about 3.5 hours. Once back at the bottom, we will set up camp and have supper and spend the night.
Day 3: In the morning after breakfast, we will walk about 3.5hours and visit two bridges. We will have the lunch in the Um Mugur area. After a short rest, we will set off on another 3 hour walk towards the evening's camp.
Day 4: After breakfast we will start with an easy hike of about 4 hours to Jebel Khasch, near to the border of Saudi Arabia. More great views can be had from the top. After, we will cross to the ether side, and have lunch and a rest, before setting out to walk towards the base of Jebel Um Adaami, the highest point in Jordan.
Day 5: After breakfast we start off from Jebel Abu Hamata to scramble up Jebel Um Adaami, the highest point in Jordan at 1832m above sea level and approximately 800m higher than the Rum Village. After coming back down, we will stop for one final relaxing Bedouin lunch before returning to the village by jeep. The drive is about 40km and provides some fantastic scenery.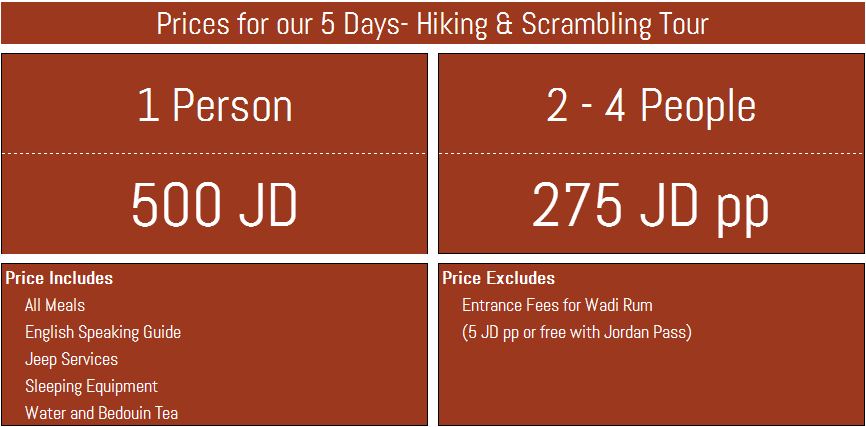 Travelling with more than 4 people? Contact us regarding group rates.
Tour Add-ons
Have we missed something that you would like to experience in Wadi Rum? Contact us now so that we can make it happen.
Do you want to experience riding a camel in Wadi Rum? Check out our Camel Day Tours page or contact us with any questions you may have.
Discounts
Are you travelling with children? On some of our tours we offer discounts for children under the age of thirteen. Contact us to find out more.